Welcome to the Doghouse!
Current residents: Lucky,Sweet Pea, Kelly and Baby.



Well alot is going on here at Cheryl's Puppy Palace. We have aquired three new dogs that aren't on the web page yet, but the pics are coming soon. We now have a female Beagle named Kelly, a female Toy Fox Terrier named Baby and a female Rat Terrier named Sweet Pea, who is currently with puppies. As soon as we get some pics of these new dogs and the soon to come puppies we will put them on here immediately so keep an eye out for the cuties.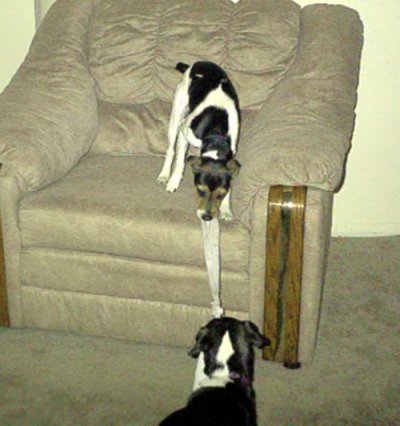 This is Eok, our first Rat Terrier that got all of this stuff started, and his buddy Lucky on the floor. We lost him to parvo a little while after we fell in love with him and it really broke our hearts. So we vowed to make sure there is a place people can go to get quality healthy puppies, so noone would have to go through the pain we suffered, that is when we got into the breeding business. We are still new but we are doing alot of research with the help from our vet all the way.
The Puppies are here!!!!!! Four sweet little Rat Terriers, three boys and one female. We have taken them to see the vet and they are very healthy. One of the males is already taken, so get your emails in now, before they are all gone. So if you know what joy it is to own a wonderful Rat Terrier then email us and we will talk about reserve one of our puppies for your home, otherwise find a Rat Terrier near you and you will fall and love and will soon be wanting one of our puppies too. We are located in Arlington, Tx and the puppies should be ready for sale around Mid April, believe me, they will be well worth the wait. The Rat Terrier is a great house dog. Easily trained and well behaved, the Rat Terrier makes a good pet for families with children, a great hunting dog or even a good apartment dog. To learn more about Rat Terriers, click on the dog info button below.
Send us photos of your puppies!!!!
Please click here for a memorial page for our beloved Eok.



click above for link page



Our puppies pals.!!!


RatTerrier@thedoghousemail.com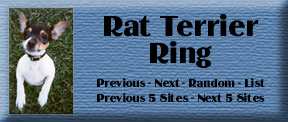 This Rat Terrier Ring siteowned by Cheryl Cartwright and Clay Richie

.


© 1998 Cheryl's Puppy Palace and Tripod